Henry the sign painter (video)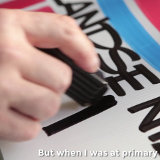 Henry van der Horst from Zeewolde hand letters signs for outdoor markets all over the Netherlands.
Two graphic designers met him while he was out working and partnered up with him last year. They built a website to sell his signs (his "5 Euro Super Deal" costs 39 euro) and created the video above (subtitled in English). Check also another video of Van der Horst creating a magazine cover.
(Link: Trendbeheer; photo: crop of a screenshot of the video)