A documentary about Rotterdam's first Bijenkorf store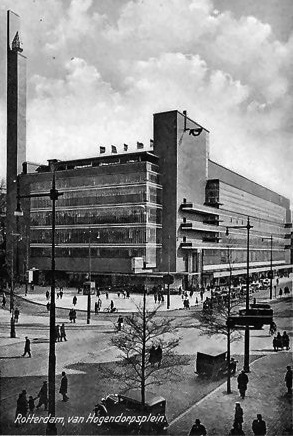 Dutch journalist Peter Veenendaal recently produced the documentary 'City of Light' about the design, construction, and social effects of Willem Marinus Dudok's De Bijenkorf in Rotterdam. De Bijenkorf ('The Beehive') opened in Rotterdam in 1930 (the picture is above is from 1935), and after barely surviving WWII, it was destroyed in 1960 to make way for a subway station and a new department store designed by Marcel Breuer.
'City of Light' presents Dudok's department store as an important model for retail architecture, including interviews with historians, former employees and local enthusiasts to bring the building back to life. Before the war, Dudok's building was the first in Rotterdam to have escalators and an electric mat to automatically sweep shoes. The roaring twenties movies of Rotterdam before the war is a reminder that Rotterdam had to seriously reinvent and rebuild itself while other Dutch cities were more fortunate.
In Dutch with English narration and English subtitles:
(Links: www.archdaily.com, WikipediaPhoto of Rotterdam, van Hogendorpsplein by Unknown, some rights reserved)
No Comments »
No comments yet.