Shock blog tries to stop Ukraine from joining EU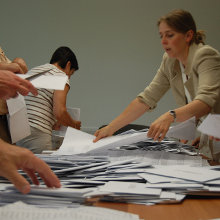 A new law allows Dutch citizens to call for a non-binding referendum in the Netherlands, the Dutch Pirate Party writes.
Shock blog Geen Stijl is trying to become the first organisation to scale the considerable thresholds the Dutch state imposes on such a referendum by getting the country to veto Ukraine's entry to the European Union. The blog has four weeks to collect 10,000 signatures from people who support the collection of further signatures. If it succeeds, it has another six weeks to collect 300,000 signatures. Currently, signatures can only be collected in writing.
Once those two hurdles have been passed, the Yes and No campaigns may receive up to two million euro in subsidies for their campaigns. Geen Stijl claims it is unwise to let a country that is currently at war join the European Union.
The Pirate Party stresses that it doesn't have an opinion either for or against the issue of Ukraine joining the EU, but applauds the addition of the referendum to the "rickety and unsatisfactory democratic toolkit we have now".
The party for rich pensioners, 50Plus, was hoping to sabotage a new pension law from entering effect through a referendum last January, but the law that makes referendums legal only came into effect on 1 July. Observers believe that even though referendums under the new law are non-binding, parliament will respect them.
In 2005 the Netherlands used a special one-off referendum to let citizens rubber stamp something the European Union claimed to be a constitution. Dutch voters from both the pro- and anti-EU camps used the opportunity to vote against the document.
(Photo by Photo RNW.org, some rights reserved)