Overijssel home to rare three-colour calf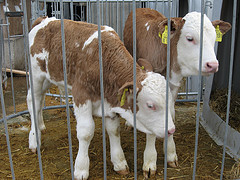 In the very religious town of Staphorst a three-colour calf (link to picture) has been born, which is said to be very rare. The Dutch called it a 'lapjeskoe', or 'quilt cow'. The mother and father of the calf were white and black, but the calf also has reddish brown in its coat.
The Netherlands has about 10 'quilt cows'. In Noord-Brabant there is also a three-colour calf that people come and visit from far away just to take pictures, called Toos55:
(Link: www.rtvoost.nl)
No Comments »
No comments yet.