Aircraft that could fly Amsterdam to Perth non-stop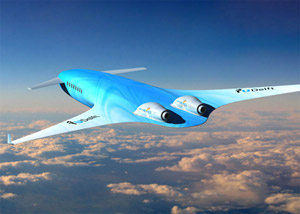 KLM and Delft University of Technology have presented designs for an aircraft that could transport passengers non-stop from Europe to Australia. It looks like a flying squirrel swallowed a hammerhead shark and then an Airbus or a Boeing, you choose.
This AHEAD (Advanced Hybrid Engine Aircraft Development) aircraft, would carry 300 passengers over 14,000 kilometres, about the distance from Amsterdam to Perth. Its design features two sets of wings – a small pair by the nose and a large set at the rear – that blend into the body. The team also proposes a hybrid engine to replace conventional turbofan engines.
KLM has previously worked with Dutch designers Hella Jongerius and Marcel Wanders to create cabin interiors and tableware.
(Link and photo: www.dezeen.com)
No Comments »
No comments yet.