There's an online Dutch shop for mermaid tails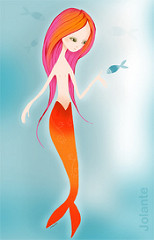 Mermaids have always been popular whether you believe the happy ever after Ariel version or, like me, your parents read you the original Hans Christian Andersen tale featuring daggers, blood and pain. You can also read the difference between mermaids and sirens as the two are often conflated.
Parents Leo and Denise Bergsen were looking for a mermaid tail for their daughter who wanted one and couldn't find one anywhere in the country. They decided set up a shop called Dutch Tails in Spijkenisse, South Holland that caters to the mermaid inclined, including professional mermaids. They make and sell mermaid outfits and also sell 'monovins' and fun swim stuff.
The couple say that very few boys have asked for a mermaid tail and that besides the hordes of little girls ages 6 to 12 who want one, more and more teenagers and adults are asking as well. "Blue is the most popular colour, then pink and purple. Orange not so much."
(Link: www.z24, Photo of mermaid by Jolante van Hemert, some rights reserved)