Man from Utrecht cycles around the world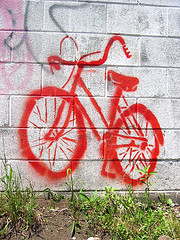 Inspired by long bike trips his grandfather used to take, Dutch cyclist Rick Creemers from Utrecht is leaving the Dom City today to start a trip around the world.
Creemers will first be heading to Basel, Switzerland so he can practice going up and down mountains, then onto Turkey to get ready to hit the desert on his way to the Himalayas in Southern Asia. The route afterwards involves getting to Australia and flying over to Alaska to then cycle all the way down to Chile. Creemers will eventually make it over to Africa and through Turkey cycle back to Utrecht.
The entire trip should take two years. Creemers, who has recently finished his studies, says it will take him 55,000 kilometres with an average of 75 km a day. He also knows he'll be cycle through unsafe countries and says he's good at keeping low key.
I hope he posts to social media, so we can write about him again.
(Link: nos.nl, Photo by Mike Porcenaluk, some rights reserved)
No Comments »
No comments yet.