Drone films Dutch cyclist on their merry way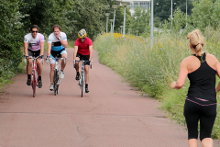 Drone enthusiast Paul Haerkens has captured himself cycling near Den Bosch, Noord-Brabant, filmed by his Yuneec Q500 drone camera in 'watch me' mode.
You'll see Versailles-like miniature gardens, bollards stopping cars from parking on the side walk, flat trees, hints of traffic circles and very little traffic. The film will give you an impression of what a Dutch neighbourhood in the middle of the country looks like: no canals, no bike paths (!) and no bustle.
The catchy music is the intro music to Paul Verhoeven's classic 'Turks Fruit' ('Turkish Delight'), composed by heavyweight Rogier van Otterloo and performed by Belgian jazz legend Toots Thielemans, all three of which come highly recommended.
(Link: www.rad-spannerei.de)
No Comments »
No comments yet.