Earphones steer your phone while driving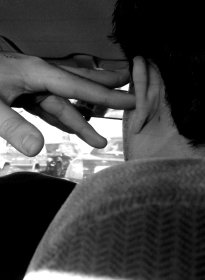 During Dutch Design Week, designer Pieter Husmann presented 'Hélo', a 3D-printed wireless in-earphone, a very classy wearable that helps car drivers answer text messages and calls while hopefully keeping their eyes on the road.
We've all been in a car where the driver is so addicted to checking their phone that the passenger has to interfere before the car hits the guard rail. Some drivers are addicted to the point of risking death for next to nothing, which makes you wonder if new technology is the solution or better awareness. New technology should help, but I still believe that leaving your damn phone alone is the safest option.
Husmann's creation combines technological innovation and hearing aid technology that fits into one's ears, with which you can answer your phone with your finger. It has four buttons for four different configurable functions from answering your phone to opening an e-mail. These earpieces can also be used for running and I would imagine cycling, skating, etc. That sounds like a useful invention even without the driving.
A while back we told you about satirist Johan Vlemmix who had thought of a free app that sends replies when driving because he admitted being addicted to checking his phone and answering people straight away. However, that was just an idea, and clearly Husmann has a real solution for addicts like Vlemmix.
(Link: www.bright.nl, Photo by Hello Turkey Toe, some rights reserved)