Pranksters pwnd furniture chain for misleading clients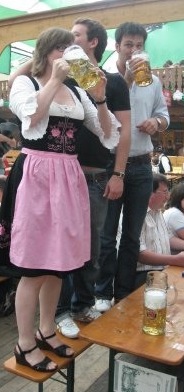 British furniture chain Seats and Sofas, which also has outlets in the Netherlands, got 'pwnd' with a 'Trojan' cake, and a song and dance. In the video below we learn that the company is well-know for advertising the price of a sofa and then in very small print adding instalments that makes the couch twice the advertised price, effectively misleading shoppers.
The Dutch and Belgian pranksters called both Dutch and Belgian shops to ask if the advertised price of 499 euro on a sofa was correct and both said yes, failing to mention the fine print story. And not reading the fine print is what bites this one shop in the arse in this video.
Although in Dunglish, the subtitles are enough to understand the prank that has been played on the furniture giant. And the video is a delight to watch: Seats and Sofas can't be arsed to read fine print or read a situation for that matter.
Beer, broads and a bacon sandwich! Watch the video to hear more festive alliterations.
(Link: www.geenstijl.nl)
No Comments »
No comments yet.