Life's a beach and then you rename it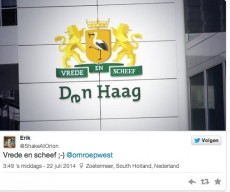 In 2013 marketing geniuses in Amsterdam decided to call the coastal cities of IJmuiden, Bloemendaal and Zandvoort 'Amsterdam Beach', and nobody calls it that because it doesn't make any sense, geographically or otherwise.
Another bunch of marketing geniuses are contemplating calling the historical beach of Scheveningen 'The Hague Beach' to attract more tourists, a change already implemented on the district's English Wikipedia page. They argue that The Hague has 11 kilometres of beach that 'nobody knows about', as if pronouncing 'Scheveningen', admittedly not easy, was the problem. The Hague is really called 's-Gravenhage' and was simplified in Dutch to Den Haag, but that hasn't stopped anybody ever.
Not far from The Hague, but way closer to Rotterdam is Rotterdam The Hague Airport, which was historical called Zestienhoven because that's where the airport actually is. It was later renamed Rotterdam Airport and finally Rotterdam The Hague Airport to give it more international appeal. Nobody cares.
According to AD.nl, the Minister of Internal Affairs, Ronal Plasterk, born and raised in Scheveningen said in a tweet: "Slippery slope: I was born in Scheveningen, not at The Hague Beach", to which the city marketing spinners retorted that The Hague Beach is just what we'll tell tourists, which is as condescending as sounds. Foreign nationals, historians and locals hate the idea. The city's website still calls it The beach of Scheveningen, which almost sounds like painting by Adriaen van de Velde.
(Link: www.ad.nl, Twitter @ShakeAtOrion)
No Comments »
No comments yet.