Girl named Isis blocked by major brand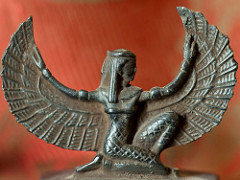 They killed off Isis the dog on the British series Downton Abbey, named after the ancient Egyptian goddess who is getting poo-filled buckets' worth of undeserved bad press for having the wrong name at the wrong time in recent history. And now it's the turn of a 16-year-old girl named Isis from Enschede who definitely has no reason to change her name or be written out of anybody's script.
Isis tried to order a pair of custom-made Nike running shoes with her name on it, but the online message was "Sorry, the ID you have entered does not meet our guidelines". Heaven forbid fashion-forward terrorists want to advertise their crew on their shoes! The sadder part as that according to RTV Oost, Isis is being bullied at school because of her name.
Unlike representing the Ancient Greek goddess of victory, it seems that Nike is letting the terrorists win.
Isis (the bad guys) and Enschede have an odd link with each other, as this spring terrorists were using fake passports with 'Enshede' on them.
(Link: www.bd.nl, Photo of Isis, Egyptian goddess by Darla Hueske, some rights reserved)