Spencer the robot helps airport passengers get around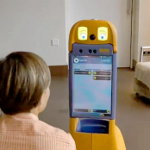 Yesterday Schiphol Airport started tests with a robot to help passengers find their gates, which are often missed due to short transfer times, delayed flights, problems getting around the airport and language barriers.
Spencer the autonomous robot guide (see picture in the link) was designed by the University of Twente together with European partners from Sweden, France, Germany and Switzerland for KLM. The robot won't drive into a group of travellers, but wait calmly until that group approaches it. "Spencer needs to be able to recognise group behaviour and obstacles, such as baggage trolleys as well as respond to unforeseen situations". Tests are being carried out this week and won't involve actual passengers just yet, something that will be done in March 2016 with a new and improved Spencer.
I happened to land at Schiphol yesterday on a day where it had closed down all but one runway due to very strong winds. On my flight, which left and hour and fifteen minutes behind schedule and had us in a turbulent holding pattern above Schiphol, many passengers had already missed their connections or had very short transfer times. I can imagine that when you're in a rush to get the right answer, a robot may not be able to pick up on your stress, a bit like the photocopier that senses your panic and just won't print. Then you'd want to talk to a human, as already postulated earlier this year by the University of Twente: "a social robot with an overly human appearance creates an unrealistic sense of expectation for most Dutch people".
(Link: www.kennislink.nl, screenshot from the video Smart Homes)
No Comments »
No comments yet.