Drop your old Lego into the sunroof of a car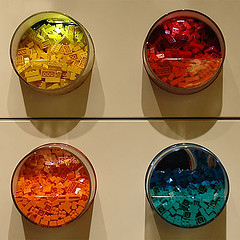 During a run through this year's Amsterdam Light Festival, I came across the green BMW used to collect Lego for Chinese artist and activist Ai Weiwei, located in front of the FOAM museum, Amsterdam's photography museum.
After Lego refused to sell him Lego for an upcoming exhibition, Ai created an international network of collection points. Since 4 November drop-offs of Lego bricks have been accepted though the sunroof of a BMW car located in front of the Foam building at Keizersgracht 609, Amsterdam. It looked quite empty, but then again filling up a car with Lego probably takes a while.
"On October 23rd, Ai Weiwei posted on Instagram: "In September Lego refused Ai Weiwei Studio's request for a bulk order of Legos to create artwork to be shown at the National Gallery of Victoria [Australia] as 'they cannot approve the use of Legos for political works'."
(Link: www.foam.org, Photo of Lego by tiptoe, some rights reserved)