Julius Caesar massacred two tribes on Dutch soil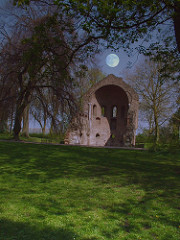 Based on a combination of historical, archaeological and geochemical data, the Allard Pierson Museum of the VU University Amsterdam has announced that they have uncovered evidence that Julius Caesar actually fought a battle on Dutch soil. Confirmed by skeletal remains, swords and spearheads that were found in Kessel, Noord-Brabant, Caesar and his men wiped out two entire local tribes, which was normal back then and wrote about it in Book IV of his De Bello Gallico. According to archaeologists, Caesar fought the battle in 55 A.D.
Around 47 A.D, the border of the Roman Empire ran through the Netherlands where Germanic and Celtic tribes lived. Several Dutch villages and cities along the Rhine descend from the Roman time, revealed by regular archeological excavations. The most important Roman settlement was Noviomagus, or as it is know today, Nijmegen. The Valkhof shown here is one of the many Roman ruins still standing there.
(Links: european-heritage.org, phys.org, Photo of the Moon over the Valkhof by Eelco, some rights reserved)