Emmen plans world's first wooden bike path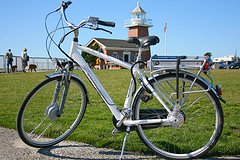 After solar-powered bike paths, heated bike paths and glow in the dark bike paths, the next trend in bike paths would be wooden ones. The city of Emmen, Drenthe has announced that it is planning to renovate a 200-metre stretch of bike path using a biocomposite material made from woodchips and bioresin for its robustness and resistance to wear. Any new material for something like a bike path needs to be able to also deal with vandalism, the weather and last a long time.
If the test goes well, it could lead to the manufacturing of these sustainable biocomposite plates in a factory that would employ 75 people in Emmen. The entire idea is part of getting more innovation going in the region.
(Link: www.dvhn.nl, Photo of a Schwinn Tailwind Electric Assist bike by Richard Masoner, some rights reserved)