Prototype back pack filters the air using plants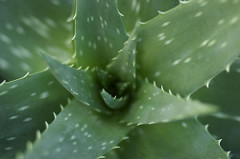 Five Dutch students of the Delft University of Technology are designing a back pack with a plant in it which would replace the use of gas masks in polluted cities. "The bag allows fine particles to be filtered out and cleans the air," said team leader Marnix de Kroon. It provides instant fresh air to the wearer thanks to a filter that sifts it through the roots of a plant inside the back pack.
Plant-wise, "it seems that aloe vera may be a possibility," De Kroon explained. An expert was quick to cut the plant bag idea down, claiming it wouldn't be useful and the filter itself could 'weed out' 99.9 percent of the fine particles.
The team still believes that in cities like Beijing and Tehran, which have serious pollution problems, could be their main market. After all, the prototype did bag a Dutch design prize.
(Link: thepeninsulaqatar.com, Photo of Aloe vera by Tom Parnell, some rights reserved)
No Comments »
No comments yet.