Stay in Van Gogh's bedroom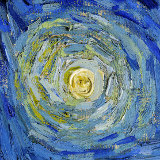 To celebrate an exhibition entitled Van Gogh's Bedrooms at the Art Institute of Chicago, a bedroom that draws inspiration from three versions of Van Gogh's The Bedroom, has been recreated. It centers around the artist's chamber in Arles, France.
Visitors to the famed bedroom are in for an immersive experience—it's as if they're traveling back in time to the Yellow House. This contemporary reimagining is located outside of the museum's campus in the River North neighborhood of Chicago, and it's part of a larger apartment. If you're interested in staying, follow the Art Institute of Chicago's Facebook page for updates on booking. Van Gogh's Bedrooms is on view through May 10 of this year.
(Link: www.mymodernmet.com)