Singing off-key is also a thing in the Netherlands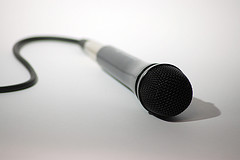 The Netherlands has had the imported idea of a choir for people who can't sing since at least the summer of 2015, according to newspaper AD. The band of bad singers is called Geen Gehoor, a great Dutch double entendre roughly meaning 'nobody hears you' (also 'not getting an answer on the phone') and 'it sounds terrible'. The choir mostly attracts the 50 plus set, and the choir practices in the Westland area near The Hague.
Founder Nico Meijer makes an excellent point: people who can't sing should be able to sing somewhere. And the Internet will tell you how much singing is good for your mood even if you sing off-key. It also makes for a great comedy show.
Have a listen to their first ever live show:
(Links: www.ad.nl-1, www.ad.nl-2, Photo of Microphone by visual dichotomy, some rights reserved)