Groningen University wins bullshit bingo slogan award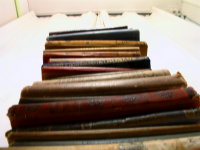 Last November we told you about the Dunglish/bullshit bingo fest that made up Dutch university slogans, and we even had a favourite horse in the running.
"One sticks out above the rest in our view, it's the RUG with 'Born Leaders Reach For Infinity' that has the flow of an acronym, but the appeal of an overflowing bin bag with rotten food begging to be taken out."
We proudly picked a winner. I even did a search using the word 'infinity' to find our original posting.
The second place goes to the University of Amsterdam with 'We are U', 'U' here is the Dutch word for 'you' and a nod to the word university, which is oddly quite North American. Third place was taken up by Leiden University and their 'Excel in Freedom' albeit actually in their own language 'Excelleren in vrijheid', which is airy, like the clouds in the sky.
These awards are part of a debate about university financing because someone paid someone good money to come up with these ridiculous slogans while universities waste money badly mimicking businesses rather than act like proper universities.
(Link: platform-hnu.nl)
No Comments »
No comments yet.