Drones take your order and bring you drinks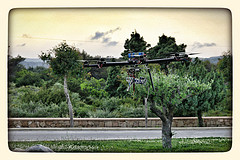 During the Dream and Dare festival on April 22 through 24 at the Eindhoven University of Technology to celebrate their 60th anniversary, they'll be tech, innovation and debates as well as art, music and food. The food part will have drones acting as waiters, happily combining tech and drinks.
At the drone café, visitors will be able to order drinks from one drone while its drone colleague brings the drinks to you. It sounds way easier than it is to have drones flying indoors instead of outdoors. They need to fly much more accurately, they need to make way less noise and they need to not clip off any fingers when you grab your drinks from their talons. As well, the drones can only handle 300 grams of weight at a time.
Tessie Hartjes, of the student workgroup Blue Jay Eindhoven, says the combination of navigating and grasping is a big deal. She explains that although the drones use speech recognition software (and I'm assuming it only understands Dutch), the café is too noisy for that to work properly so you can order from the bar, old school. The drones also fly a certain route that you cannot walk into for fear of causing an accident. You can also pay to the drone, and tipping them might actually make them tip. I'm kidding.
(Link: www.tue.nl, www.bright.nl, Photo of Drone by Karen Axelrad, some rights reserved)