KLM passengers can check in using Facebook Messenger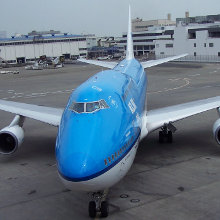 As of March 30 KLM has been letting its passengers check in online using Facebook Messenger. Passengers can get their boarding cards and flight information as well as ask KLM any questions they may have directly instead of having to use Twitter or post their story on KLM's Facebook page for all to read. A boarding pass that used to have to be sent per e-mail or text message can now be sent by Messenger.
Although a world premiere in aviation, we're calling this a Dutch first because car service Uber was the first company to use Messenger. You can now order an Uber as you land at Schiphol if you wanted to. In the future, other companies will follow suit as well, according to Facebook. KLM is also talking to WhatsApp, owned by Facebook, to extend their services.
(Link: www.nu.nl, Photo: Steven Straiton, some rights reserved)
No Comments »
No comments yet.