Charging up your phone while you fidget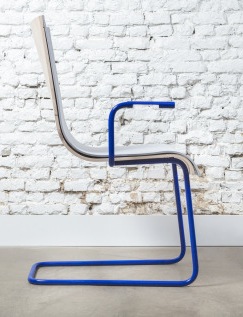 For those of us who can't still still, imagine sitting or moving around in your chair and charging your mobile phone at the same time. Thanks to Dutch designer Nathalie Teugels, you'll be able to do just that: her chair called MOOV has 288 piezoelectric crystals under the seat cushion that produces electricity when it's compressed.
Teugels was told way too often to 'sit still' and instead of catering to that, she decided to design something that would embrace the fidgeting, especially people with ADD. In fact, sitting upright in the chair can charge it up as well, so it's a win-win for anyone sitting down. The chair is currently a working prototype, so we'll have to sit tight for a while until we can get one.
If someone could do that with the utterly useless and annoying habit of pen clicking, I'd be a tad less misophonic. I actually carry pens around to switch them out to people who click them.
NTEUGELS PRESENTS MOOV from RAHVICE on Vimeo.
(Links: mentalfloss.com, photo: nteugels.tumblr.com)
No Comments »
No comments yet.