Dutch Eurovision rehearsal video leaked by Russia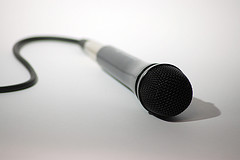 We told you about the Dutch Eurovision entry from 23-year-old Douwe Bob from Amsterdam and we thought this year there wouldn't be any fuss about wardrobe malfunctions or plagiarism, but oh no, there's a scandal.
Apparently the Russian jury members leaked a video of them rating Douwe Bob's entire performance at the general rehearsal, which was not supposed to happen. Большое спасибо, Russia!
Some people are pissed that the video was leaked, others like the bookies get some inside information about Douwe Bob's chances. As we said recently, 'Slow Down' is nice, but not an earworm.
UPDATE: Douwe Bob has made it to the final.
Here's the leaked video:
,
(Link: www.rtvnh.nl, Photo of Microphone by visual dichotomy, some rights reserved)
No Comments »
No comments yet.