Wanted mafia boss ran top pizza joint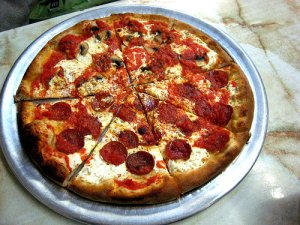 For years in Scheveningen Rocco Gasperoni of the 'Ndrangheta' or Calabrian mafia was happily making the best pizzas the neighbourhood had even eaten until his arrest about a week ago.
And his story reads like a movie. His criminal activities date back to 1997 where he was arrested in Spain, then sentenced to 14 years of hard time for smuggling drugs between Italy, Spain and the Netherlands. He was eventually placed in house arrest and managed to flee to the Netherlands.
The Italian government tried to have Gasperoni extradited, but apparently messed up the paperwork and he was free again. Then he opened up a few shops, but the pizza shop is the one that made him popular, although neighbours claimed that shady characters would visit the joint and sit in dark corners. And then the Italians tried to extradite Gasperoni again, but since he had been in the Netherlands for so long, it didn't stick and more pizzas were made.
As of a week ago Gasperoni will be doing 12 years of a 14-year sentence in a Dutch prison. Dutch authorities blame the differences between Italian and Dutch laws for why it took so much time to put him away.
(Links: www.ad.nl, 20min.ch, Photo of Pizza pie by Adam Kuban, some rights reserved)