Demolition space for men opens in Rotterdam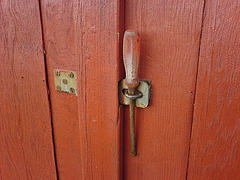 A bunch of students from the Willem de Kooning Academie in Rotterdam have decided to open up what they claim to be the country's first 'demolition space' called Bij de Buurman ('At the Neighbour's). And everything you'll read about it is for men, men and men, although I can't imagine they would ban women, but it is 'where men can be men'.
Besides wrecking all kinds of things with a baseball bat or a hammer, patrons can come there to have a drink and chill, presumably after they've trashed something. Bij de Buurman says their demolition palace is for "frustrated men between the ages of 25 and 50 who need to work out job and relationship stress", according to two of the six students, men, who themselves don't have any of these issues because they go out and drink instead, possibly with your money. Cashing in on your fellow 'man' is fine, but insulting them in the process is an added bonus.
The demolition space is in a container in Rotterdam-Noord and will be open is from 26 to 29 May and from June 2 to 5 June where a demolition sessions of 5 minutes will cost the men 20 euro. Women of Rotterdam between the ages of 25 and 50, if you have job and relationship stress and need to trash something, well too bad. Or maybe you'll be joined by men under 25 and over 50 who feel left out, and the world will be round again
(Link: www.ad.nl, Photo of locked door by boetter, some rights reserved)
No Comments »
No comments yet.