Opening the racist door: Monsieur Cannibale part deux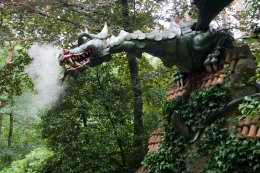 The ball of this story got rolling back in 2014 when an American journalist was 'shocked' at an amusement park ride from De Efteling called 'Monsieur Cannibale' (French – new and improved explanation coming up) that features a black cannibal-like character with a bone through his nose cooking up unsuspecting children.
The racist door has now opened up as the Stop Oppressive Stereotypes (SOS) group published an open letter to the amusement park accusing it of featuring racist rides, one of which is Monsieur Cannibale and the other Carnaval Festival that features Asian stereotypes. However, Efteling asked SOS for a sit down and SOS haven't responded yet – to be continued.
One side is telling the other to get a life and ideally a job and the other is having a 'hey' we never really saw things that way and it makes us feel uncomfortable moment, akin to the debate about Zwarte Piet. The Efteling says it mostly gets complaints about serving unhealthy food, but not about racist stereotypes.
I love Sacha Distel, the French singer and guitarist who sang this 1966 racist and sexist song that the Efteling chose to subject to children: it matches the ride perfectly in its bad taste. Distel's song is about a white man captured in Africa by black cannibals who thought he was a spy, trying to politely plead the head cannibal (hence addressing him as Monsieur) not to eat him, but negotiates his way out of it by offering him porno magazines. The head cannibal laughs, brings the guy back to his harem for a week after which the guy lose 20 kilos and refuses to leave. The man basically shagged all the presumably black ladies who were all "hungry for it".
Here's a version of the song with a decent Dutch translation:
And since the French playback performance I posted in the original post was removed, here's the same offensive performance sung in Spanish. He still pulls his eyes sideways to indicate the Chinese language at the beginning, so the Asian stereotypes are conveniently addressed by Distel as well.
(Photo: Photo of an Efteling dragon by Jeroen Kransen, some rights reserved)