A wine glass for the great outdoors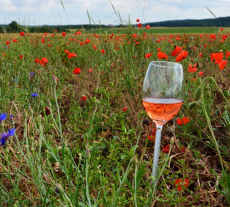 Designed by Dorine Vos, the Parqer glass is a proper wine glass with a sharp-ended aluminium stem instead of a glass stem and a foot you can plant into the ground, be it in a park, a beach or in the forest. This also means you can drink decent wine instead of some Château Migraine in a plastic cup.
A set of two glasses comes in a shockproof casing where the glasses don't touch the sides, while the aluminium stems come in different colours like silver, gold, black and green. Vos came up with the design after her own experiences sitting in the parks of Amsterdam, which I can tell you means having to drink out of soft plastic cups.
Their instagram is fun, with people using their Parqers in all kinds of places.
(Link: www.designboom.com, Photo www.parqerglass.com)