An ice cream man with creative accounting skills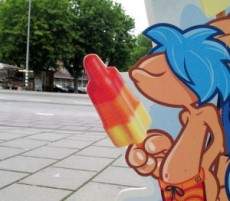 Last year we told you about an ice cream man from Maarssenbroek, Utrecht who rings his bell at night, pushes ice cream on children to get their parents to pay for it and does other nasty things. Albeit very different, here's a contender for most questionable ice cream man: a guy from Uddel, Gelderland who makes calculations that don't match his list of prices.
The long story is that one flavour of ice cream is counted as two scoops of ice cream, so if you want two flavours, you'll end up paying for four scoops. If you feel like that's not what you asked for, then too bad. The scoops are apparently as small as strawberries. Imagine what happens if you order for a family of four. If you need napkins called 'happy hands', he'll hand them over to you and then charge you for them. And there's no child-size cones, so that's also quite expensive and wasteful I'm sure in many cases.
Munchies interviewed the man behind this creative accounting scheme who simply said he's been in the business for years. He blames all his clients for not understanding his concept and if people don't like it they can go elsewhere. He compares the 'happy hands' to paying for mayonnaise with Dutch fries, but then the price of the mayo is clearly indicated, while his napkins are not. Oh, and the amount of bad reviews he has on social media must mean something.
Let's roll the clip and see what happens. In Dutch.
(Link: munchies.vice.com, Photo of unrelated Dutch rocket ice lolly)
No Comments »
No comments yet.