Restaurant invests in 3D printers for pancakes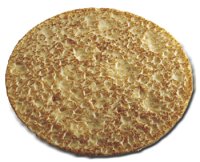 In the town of Ruurlo, Gelderland, pancake restaurant De Heijkamp is going to let a specialised 3D printer 'make' pancakes, albeit not every day. Owner Bert van Zijtvelt will be using the Pancake Bot, a successful Kickstarter project that became the world's first 3D pancake printer that can make all kinds of cool pancakes (see video below).
Inventor Miguel Valenzuela, a Mexican-American expat living in Norway, credits one of his two daughters for the idea. He was reading an article about a guy who made a pancake stamping machine out of LEGO, when his daughter turned to her sister and yelled, "Papa's going to build a pancake machine out of LEGO!" The prototype was actually made using LEGO, how cool is that.
Van Zijtvelt has bought two 3D printers, each costing USD 500 (450 euro). According to chef Rob Weijers, the biggest problem is getting the pancake batter just right, with not too much sugar in it, so it doesn't jam things up.
De Heijkamp only plans on using the printers for special occasions like company events and children's parties.
If you can get past a glaring spelling mistake and corporate dubstep with motor sounds, you can enjoy what the printer can do.
(Links: www.ad.nl, 3dprintingindustry.com)