Why America doesn't know its Dutch history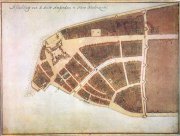 Here's our online version of reading a book on the beach: let's all learn about the Dutch origins of New York City and more by American author and historian Russell Shorto who sounds like he could talk about it all day.
The first part is a quick introduction called 'Why don't Americans know about their own Dutch history?', which starts by naming all the British things Americans usually know about their country and exposing the blind spot in people's knowledge about anything Dutch.
Check out the rest, all short videos. Part 2 starts off with an explanation of the Castello Plan that we've used as an image.
Part 2. What's left of New Amsterdam in Lower Manhattan?
Part 3. Meet a forgotten American visionary
Part 4. How New Amsterdam influenced America
Notice the Heineken truck going by as the video starts in Part 1.