ResQ food waste app launches in Amsterdam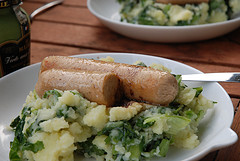 Started up in Finland last year and already available in Sweden and Estonia, ResQ, a successful app that offers restaurants trying to sell cheap, leftover meals to hungry patrons is launching in Amsterdam this week. Other major Dutch cities such as The Hague and Utrecht are soon to follow this fall.
Research from Wageningen University claims the Netherlands throws out 51 million tonnes of food a year and that's waste many groups would like to put a halt to. Available for iPhone and Android, ResQ will first aim at people who come from their work and want to eat something without too much fuss, like lasagna, sandwiches, salades, soups and baked goods, which are easy to sell fast rather than throw away.
In February a Dutch supermarket chain hired a chef to cook food that otherwise according to the law still had to be thrown out, but ResQ is sure to stop some of the waste.
(Link: ad.nl, Photo of an endive potato mash with meatless sausage by Jasja Dekker, some rights reserved)
No Comments »
No comments yet.