Lose friends fast by being an organic food snob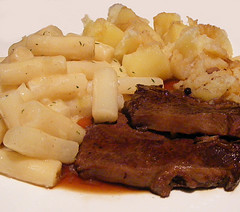 The Dutch are not a food country: the motto here is food as fuel, like the hearty cheese sandwiches I've grown accustomed to over the years. However, like most humans, they love tasty food and as of late, are flexing their great trading skills by trying to combine junk foods and also trying to counter food waste.
I just read a letter sent in to newspaper Trouw in which a couple actually believe that 'normal' food is poisonous and expensive organic and bio-organic food is the dog's bollocks. I'm thinking they did not grow up with organic and bio-organic food because it's not been readily available for that long, and read something somewhere about it and now act as if they are in a higher social class. I'm picturing a white Dutch couple with some education, 30s, where the woman cuts off the man when he's talking, especially since he's the only one making sense, as you'll see. And he's going along with it because he can't be arsed to find another partner at the moment and I bet eats dirty poisonous food when she's away at her mother's.
The couple wanted to know if it is OK to ask their friends to cook them organic food at dinner parties and wonder if it's not too annoying for them to ask for 'non-poisonous food'. The man thinks it's inappropriate, while the woman has asked friends before and it has gone well, but still they get invited less. I hope they realise their friends fed them normal food and are going to avoid them like poison in the future until the guy splits up with his girlfriend and finds a new shiny one who eats everything under the sun.
The answer the couple got starts with: "it is quite arrogant to ask your friends to serve you expensive organic/bio-organic food. […] Your menu demands are very different than those of vegetarians or from people with a specific allergy because normal supermarket food is not poisonous." It goes on to say there's no scientific proof whatsoever that normal food is poisonous and called the couple 'bonkers' to conclude that their friends serve them 'poisonous meals', which is horribly arrogant and incorrect. The author would invite them over, serve them normal food and never invite them again, too, with a smile.
The man of the couple believes that being with friends is more important than the food they eat, but his partner isn't getting the message. I think food and dinner party etiquette isn't this couple's biggest problem.
(Link: www.trouw.nl, Photo by FotoosVanRobin, some rights reserved)