Baking show puts apple pie smell on tram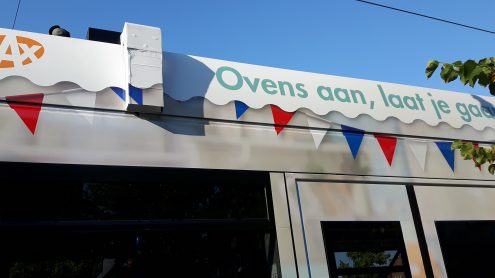 Dutch baking show 'Heel Holland Bakt' (All of Holland/The Netherlands Bakes'), the Dutch version of 'The Great British Bake Off', is promoting the start of their new season with a tram in Amsterdam that smells of apple pie, which is a Dutch first and possibly a world first as well. And it's my local tram, tram 7, so I may update this post soon enough.
Many viewers have wanted to know what it smells like in the tents on the show where they bake, so here's an answer, at least for anyone in Amsterdam because despite what certain people might think Amsterdam isn't all of the Netherlands or Holland (two provinces) for that matter.
It's what they are going to do about how the pie tastes that could interesting. I vaguely remember tram stops with perfume spritzing out of them, which bothered a lot of people for a lot of legitimate reasons like it's disgusting and being allergic to perfume.
And feel free to make munchies jokes as well, that's fair game in Amsterdam.
UPDATE: It's tram 1, which goes from the West to Amsterdam Central Station, not tram 7 that goes from West to East. The very fake smell of apple pie comes out of a few vents near the doors.
(Link: www.at5.nl)