Artist takes Amsterdam to court for pulling artwork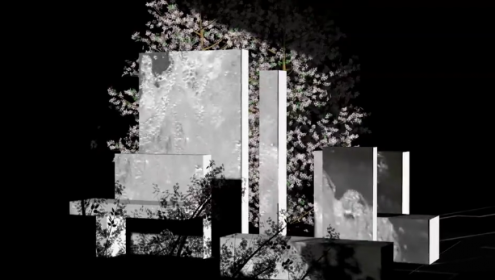 Amsterdam artist Femke Schaap, known internationally for her "life-size, spatial film-installations", is being jerked around by Amsterdam's Zuid district who has suddenly dropped a commissioned project of hers that's been seven years in the making. Schaap has 200,000 euro hanging in the balance owned to her once the work is placed, and is taking the city to court to make sure it gets placed according to their binding agreement.
The video-installation WEstLAndWElls, has white blocks with video projections of fountains, which would only be turned on after sunset – that's it, nothing vulgar or controversial. Built to be placed on the Theophile de Bockstrook, a local green patch, the artwork had already angered residents a few years back who took to writing letters. Everything they complained about was verified and deemed unfounded, like claiming children could hurt themselves, attracting graffiti and even causing epileptic seizures. It sounds like the neighbourhood was already upset about all the construction around them (houses, schools and parking) and WEstLAndWElls became the drop that made the bucket spill over.
According to the artist, the fountain projection is in slow motion and 'romantic', there's a budget for an anti-graffiti crew for ten years and no one is going to hurt themselves on the artwork. Problem is, the city district legally dismissed all the letters against placing the artwork, but all of a sudden has decided not to place the artwork after all, to everyone's surprise. But they can't just do that. Schaap's lawyer claims the whole situation has been "stressful and damaging" for the artist and her excellent international reputation.
This isn't over yet, or as a friend of mine would say, it went from a 'situation' and it's turning into a '-gate'.
(Link: www.parool.nl, Screenshot of artwork from this video)