In Rotterdam parking spots turn into parks for a day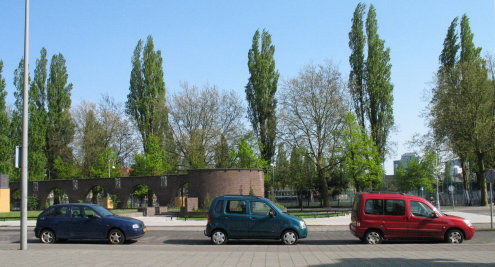 Today Rotterdam is celebrating Park(ing) Day, which sounds like a lot of pun fun. The city of Rotterdam is letting people take over a parking spot for free and camp out on it, as if it were a park. And to sweeten the deal, the rules of a park apply to the parking spot.
Park(ing)Day is part of Happy Streets, yet another let's-use-English-rather-than-Dutch named event (where 'happy' often sounds like 'hippie' when some Dutch people pronounce it) lasting the entire weekend in order to promote 'sustainable mobility and a better use of public spaces'.
The city will also feature yet another let's-give-it-an-English-name-to sound-cool event called Walk'in Rotterdam, where people can take a stroll along various uncommon parts of the city with a knowledgeable guide who I bet will tell their stories in the country's main language.
And Sunday is another why-use-Dutch-go-for-English event called Open Streets when streets will be car-free and feature other merriment.
Yes, this is a picture of Amsterdam.
(Link: www.ad.nl)
No Comments »
No comments yet.