Dutch bees move to France for the winter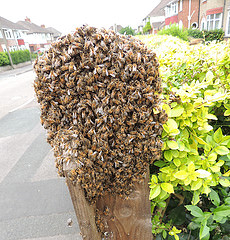 Professional bekeeper Leo Gensen from Wijk bij Duurstede, Utrecht recently drove a truck with an adapted trailer full of half a million bees down to the southwest region of Dordogne in France to ensure their winter survival.
"The biggest problem for bees is that there's often not enough food for them in the Netherlands" he explains. Gensen has a friend in France who is an amateur beekeeper and a pensioner, able to take care of the bees this winter.
In mid-October another one million bees will take the same 1100-kilometre trip. Chances are this is the first time this has ever been done.
(Link: www.waarmaarraar.nl, Photo of swarming bees by quisnovus, some rights reserved)
No Comments »
No comments yet.