World's first official video refereeing, a Dutch affair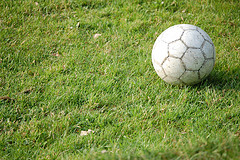 September 21 saw the official world debut of a video assistant referee (VAR) in a competitive football game, starring Amsterdam Ajax vs Willem II of Tilburg (Ajax won 5-0). As well, Willem II midfielder Anouar Kali became the first player in the country to get a red card recommended by a VAR, after his yellow card in a Dutch Cup tie against Ajax was turned into a red one.
Staring at six video screens in a van, the VAR can review an incident when asked by the match referee as well as advise officials about incidents they may have missed. The International Football Association Board will probably decide in 2018 whether to authorise the use of video technology and incorporate it within the laws of the game.
The intervention confused fans of the Amsterdam-Tilburg game, as the change from yellow to red was not communicated to them, something that would have to be remedied. Other sports like rugby and hockey have been using VAR for a while, but football has been slow to join in. Video refereeing was tested again on September 22 with Rotterdam Feyenoord vs. FC Oss (Feyenoord won 4-1) , while I was in the pub for a quick visit.
The video referee communicates with the referee on the pitch within a few seconds of any incident. As well as advising on penalty and card decisions, they can help clear up cases of mistaken identity or infringements in the lead-up to a goal such as offside or foul play. If the on-pitch referee wants, they can also review the video footage themselves before making a final decision.
(Links: www.worldsoccer.com, phys.org, Photo of Football by Bramus, some rights reserved)