Diffuser alerts Internet uses to data leaks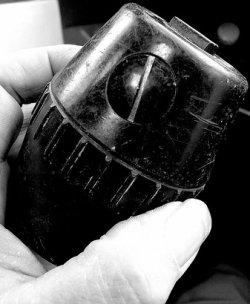 Graphic artists Leanne Wijnsma and filmmaker Froukje Tan have created a product called 'The Smell of Data', a 'grenade-shaped scent diffuser' designed to alert Internet users of data leaks from their smartphones, tablets and computers. After all my recent reading on data security by Edward Snowden and Jacob Appelbaum (did you know he's studying in Eindhoven?), you'd think a diffuser like that would be on almost constantly. Since most people don't experience the consequences of a data leak, they don't really care until something goes terribly wrong and by then it's too late, a bit like carbon monoxide.
Wijnsma and Tan researched the human response to gas leaks, inspired by a 1937 explosion in Texas caused by an unnoticed gas leak. The incident prompted the government to artificially add an odorant to odourless gases (tert-Butylthiol, which smells like rotten eggs), making them more easily detectable. Carbon monoxide, also know as the 'silent killer', is a byproduct of combustion by stoves or heating not working properly in a home and is odourless, which makes you feel grateful for the smell of rotten eggs keeping you safe.
Launched in September 2016 at the Science Museum in London, The Smell of Data is meant to give people the same reaction as smelling a gas leak, hoping that people will finally take it seriously. Watch the video:
(Link: www.dezeen.com, Photo of grenade by macspite, some rights reserved)
No Comments »
No comments yet.