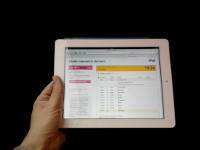 Webwereld, one of the oldest tech news sites of the Netherlands, is going to cease to exist. We enjoyed using them as a source for subjects such as high speed wireless internet (wimax), NL-alert (national alarm system), net neutrality and quite a few more.
The tech-savvy site had been around since 1995, and editorial staff were sent packing about a month ago. The site will go offline on 1 March, and its owner, IDG, will apparently continue on with business sites.
Way back in in the day, having a 24-hour online news service about IT was a big deal and quite new, at least in such a small country and language region as the Netherlands. One of the cool things they did was launch 'lektober' ('leaktober') in 2011, which featured company data leaks back when companies didn't quite know how to deal with them (they still don't, but OK).
Thanks for the good stories, Webwereld!
(Link: bright.nl)
Tags: business, data leaks, Webwereld