Netherlands' first ever vegan supermarket opens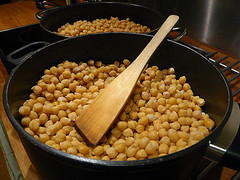 All the big European cities have them, but for some reason the Netherlands has been very late to get with the program on this one, as the country' first vegan supermarket opens today.
The honour goes to Groningen, that 'way up North' city full of bike paths and students, who are most probably the target market of the store located on Nieuwe Ebbingestraat in what used to be a former post office.
In fact, it's mostly female students who are setting the trend in vegan food shopping according to employee Benny Lobo of the Vegan Super.
(Link: www.rtvnoord.nl, Photo of Chick peas by abrunvoll, some rights reserved)
No Comments »
No comments yet.