Smoked sausage meets kroket in new snack combo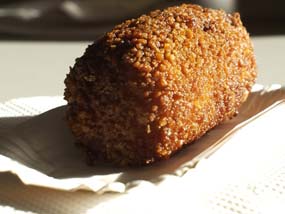 The year 2016 is turning into the year of the junk food combos: discodel, pancake with fries, fries with soft vanilla ice cream, and now it's time for the next level in junk food: the 'rookworstkroket' ('smoked sausage kroket').
Unox (Unilever) makes the famous smoked sausage that HEMA passes off as their own, but now the next level is upon us with Unox getting into bed with FEBO to spawn the deep-fried sausage snack. FEBO tried to get into bed with HEMA instead, combining the combo with the 75th anniversary of FEBO and the 90th anniversary of HEMA, but HEMA said no. Unox pounced on the opportunity and soon we'll get to taste what the fuss is all about.
(Link: nu.nl)
No Comments »
No comments yet.