Imagine Hitler on Dutch reality television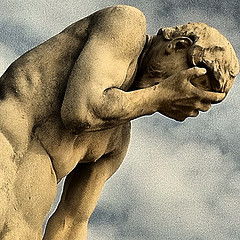 The website of popular Dutch reality television show Expeditie Robinson recently fell victim to a hacker with a sense of humour.
The hacker placed a picture of Adolf Hitler on the site as a potential candidate for a new season in which ordinary citizens can participate alongside celebrities. Television chain RTL was slow in noticing the 'intruder', not having noticed anyone hacking into their site or disgruntled employees.
When people clicked on Hitler, they could read the words 'Sieg Heil', which was in the process of collecting likes as a potential participant. Once social media starting talking about the incident, the media got wind of it. I'm not even going to check if the situation has been rectified, I had a good laugh and I'm thinking, it could happen again.
(Link: tubantia.nl, Photo of Paris Louvre facepalm by Phelan Riessen, some rights reserved)