Policeman tracks 'unsuspecting' bike thief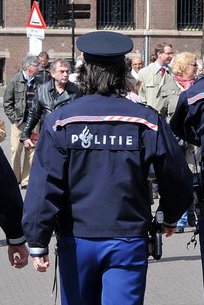 Recently a policeman in Leiden was tracking a stolen bicycle that appeared to be very close to where he was driving in his cop van. He followed it around because dispatch told him that the bicycle was nearby, tracking it using a GPS signal, as it was a bicycle cops use to lure bike thieves in order to catch them, a 'bait bike'.
Then he spotted another van that possibly had the stolen bike in it, followed it, and stopped it. However, once the van pulled over, the policeman figured out that the stolen bike was in the back of the police van he was driving, and promptly became the joke of the day at the police station.
The policeman in question usually bikes on the job, but on this day, he decided to use a van. While he was driving, dispatch told him about the stolen bike, but then they didn't seem to know it was in the back of the van in the first place.
(Link:rtlnieuws.nl, Photo by Facemepls, some rights reserved)
No Comments »
No comments yet.