It's 1-1 in the Van Haren vs Louboutin shoe fight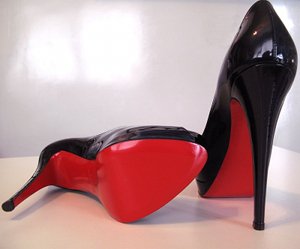 A few years ago German-owned Dutch shoe chain Van Haren was selling what appeared to be a nod to French brand Louboutin's high heels, with their trademarked red-lacquered sole. Louboutin picked up on that and took Van Haren to court, and Van Haren lost.
The basic story was that the colour of the sole and the Louboutin brand were difficult to see separately because they used it on all their shoes. Even though a pair of Louboutins can cost up to a couple of months' rent, the ones Van Haren sold cost 40 euro, but even though there was no comparison, it was all about the sole.
Van Haren decided to duke it out in the European Court, which received advice from their top experts that 'you can't trademark a colour if it stops the competition from making wares with the same functionality, especially combined with the form'. And usually the European Court sides with their advisors.
Sometimes, it's 'fake shallots', this time it's red soles.
(Link: rtlnieuws.nl, Photo of Louboutin shoe by Arroser, some rights reserved)
No Comments »
No comments yet.