Making 3D dishes and food for the elderly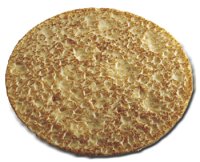 Chef Jan Smink of top Dutch restaurant De Librije in Zwolle, Overijssel talks about the possibilities of making 3D printed dishes in the video below, where he shows us a creation made from celeriac and hazelnut paste with mushrooms, fermented garlic and more celeriac.
Smink segues into explaining that in Dutch retirement homes where 8% of the elderly have problems swallowing food, 3D printing could be useful for making their lives easier. It means they wouldn't have to have their food blended to be eaten through a straw, which takes away from the social aspect of eating. Imagine making things like white asparagus puree, printing it out and eating with everyone else. That can be done since a 3D printer can make one-off orders, something a factory cannot easily do.
Of course, with a restaurant like Michelin-starred De Librije, not everything should be printed out, but it's nice to hear from a chef that even people who don't frequent his establishment could benefit from 3D printing.
Last year we told you about a 3D printer for pancakes at a restaurant in Ruurlo, Gelderland.
(Link: bright.nl)
No Comments »
No comments yet.