Goats on the roof of the farm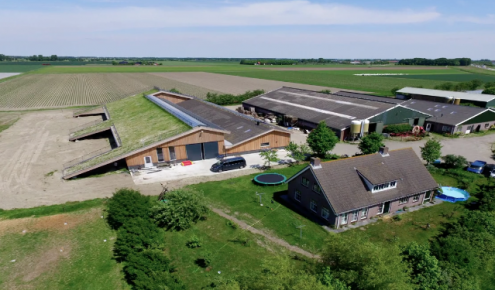 In Oude-Tonge, South Holland, two organic goat farm owners decided to build a new shed with a very different type of roof: one with a grass field growing on it.
"We didn't want just another roof, we wanted something original", explains Aafke van Tilburg. When a new shed had to be built for the kids (baby goats), that's when the plan to have a grass field growing on it that measures 850 square metres came together.
Once the grass is properly growing and the field around it is ready, the couple will let some 200 kids climb and frolic about on it. The fun part of course that anyone driving by will be able to see a heard of white goats floating above the typically flat agricultural landscape.
The interviewer prompts Aafke and says, "Soon you'll attract busloads of people". Aafke replies, laughing, "Maybe I should start a shop".
(Link: rijnmond.nl, Screenshot of film)