Dutch man walks with exoskeleton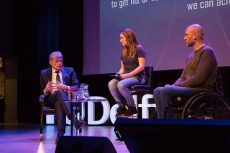 Students of the Delft University of Technology have designed an exoskeleton for a paralysed Dutch man who cannot use his legs. Their goal is to help people with a transverse lesion carry out daily activities in more than just a wheelchair.
The student team Project MARCH that developed the exoskeleton wants to play a role in collecting data on exoskeletons in order to get a better idea of the added value this technology has to offer as compared to the use of wheelchairs.
Early this year the students unveiled the design and last week the man tried out the exoskeleton the students made for him. Check out the video of the man walking again here (in Dutch).
Sometime in October Project MARCH will showcase the exoskeleton with the man in it at an international competition.
(Links and photo: nos.nl, www.tudelft.nl)