Pay digitally with a small Dutch device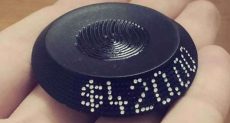 Felix Mollinga, student at the Design Academy in Eindhoven, has won the James Dyson Award and 2,250 euro for his Acoin invention, a way to pay digitally and more anonymously using either virtual money from the bank or Bitcoin.
Acoin is a small black device of about 4.5 cm in diameter where virtual money can be stored. A small screen allows users to see how much money it has stored, money that can be transferred digitally to another Acoin, much like the contactless payments we have now for public transport. There's also a finger sensor so that money isn't transferred by mistake.
Mollinga explains that at some point all payments will be digital for many reasons, one of which being that it costs governments too much money to print money. This comes on the tail of my recent visit to Sweden where in June many coins have been rendered junk and an article explaining why the country is close to becoming a cashless society and why the future will be sans banknotes. The downside is, the more electronic payments we use, the less anonymous we become and possibly the value of bank notes and coins will be missed, says Mollinga.
Mollinga plans to take part in an international design competition with Acoin, the winners of which will be announced on 26 October. If he wins, he'll go home with 35,000 euro, which he says he'll put towards producing the Acoin.
(Links and photo: m.datanews.levif.be, emerce.nl)
No Comments »
No comments yet.