Dutch boast world's first printed bike bridge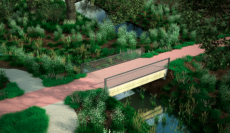 In June we told you about Amsterdam getting a 3D printed steel bridge, but the town of Gemert Noord-Om, Noord-Brabant has recently had a 3D steel printed bridge for cyclists installed, making it a world first.
The bridge was printed in June at the Eindhoven University of Technology and installed by construction company Royal Bam Group. It is made of pre-stressed and reinforced concrete, which is a feat of sustainability. "With 3D printing, you have more flexibility regarding the shape of the product. As well, 3D printing a bridge is also incredibly efficient: you need less concrete, but there is also no need for shuttering where the concrete is normally poured in. You just use exactly what you need, and there is no CO2 emissions", explains BAM Director Marinus Schimmel.
And yes it's a corporate film in Dutch, but you get to see how they made it.
(Links and image: designboom.com, brabant.nl)
No Comments »
No comments yet.